Water damage restoration in Mascoutah Illinois
Water Damage Restoration Services in Mascoutah Illinois, Scott Air Force base, New Baden and surrounding areas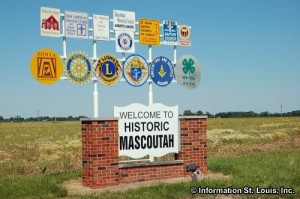 As devastating as flooding from forces of nature is, it is not a main cause of water damage to properties in Mascoutah Illinois. Power outages, worn, blocked and frozen pipes can leave you with hefty mold and water damage. Mold remediation and water damage restoration can minimize the after effects of too much stray water in your home.
Broken pipes bursting from winter freezes let you know in a hurry when they need attention, but not always before they soak flooring, carpet, sheetrock and plaster. Protect them with heated or insulated tape. Deteriorating pipes in old homes need to be replaced before they break. The initial cost is far less than it will be for clean up from water damage and mold remediation, not to mention the stress of going through that. Available 24/7, Absolute Clean Floors can start clean-up immediately.
Sump pumps can wear out, but worse are heavy storms that knock out power to them, shutting them down. Without a properly working sump pump, basement flooding risk rises like high tide. Check your sump pump weekly to make sure it is working properly.
Worn gaskets, tree roots, blocked pipes all can cause sewage backup. Like deteriorating water pipes, replace sewer pipes in older homes before greater expense of damage control is needed.
Worn or improperly installed connections for appliances like water heaters, washing machines and dishwashers can lead to a slow leak or spewing water.
Hidden leaks from broken pipes and damaged roofing can be be hard to see. They can spend hours, days, months or years wreaking havoc inside your walls and attic. We have the tools to detect the sources of hidden leaks and assess damages.
Sometimes damage control is a trade-off as a solution to one problem creates another when streams of water from fire hoses leave messy trails and pools of water damage. If treated quickly enough, carpet cleaning and properly drying the affected spaces helps prevent mold from growing and salvages carpeting.
Pre- and post-winter carpet cleaning helps prevent mold growth and its allergens from making you and your family sick. It preserves the beauty and service life of your carpeting while freshening the home.
All of Mascoutah lies in a flood plain. Every home and business structure can likely experience flooding at some point, so we all prepare the best we can for forces of nature that can damage our homes and businesses. With a little diligence, you can prevent water damage from more common sources described here. Call Absolute Clean Floors for prompt response from an expert, licensed, bonded and IICRC-certified technician.