Flood Water Damage Restoration Services in OFallon IL
Also offering water damage restoration and repair in Fairview Heights, Shiloh, Belleville and surrounding communities.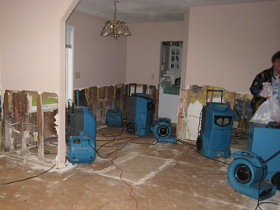 A pipe break floods your distribution warehouse. Your home sump pump fails. You need water removal services in O'Fallon, IL – now. Absolute Clean Floors can dry your building's structure, as well as the contents, and can save you thousands in reconstruction costs. We can often times dry and save drywall, insulation, hardwood floors, wood and metal studs, concrete block, plaster walls, ceiling tiles and much more.
We have completed tens of thousands of successful water removal and dehumidification projects.
We have the experience and expertise to help you when water damage occurs because we know you need a water removal company to get the job done now and get it done right.
We are that company.
We come prepared to do the job right!
Our employees are given the tools they need to serve you by continuously investing in the latest extraction, dehumidification and other water damage restoration equipment.Absolute Clean Floors is dedicated to ensuring that you and your insurance carrier receive the best service possible as your property is restored to pre-loss condition.
What you can expect from Absolute Clean Floors water damage restoration services:
Expert, well-trained technicians
Communication about what and why we do what we do
Coordination with your insurance carrier
Fast service 24 hours per day, 365 days per year
Dehumidification and moisture monitoring
Photo documentation
Deodorize and sanitize
Temporary power and climate control
Choose Absolute Clean Floors water removal and water damage restoration services in O'Fallon, IL, Shiloh, Fairview Heights and surrounding communities. Call us at +1-618-402-8225 or for non-emergency inquiries by email us at scott@absolutecleanfloors.com, and discover true "Peace of Mind."