Water Damage Freeburg IL, Water Damage Cleanup and Repair, Flood Cleanup and Sewage Removal
"Woke up the morning of our vacation to water in the basement from a failed sump pump. Scott & his team were at the house within the hour & did an amazing job! They were willing to work with a family member while we were out of town & settled up when we got home. The team was professional & courteous. While we hope we never need them again, we know who we'll call if things go wrong again." – Jennifer L.
Your Trusted Source for Water Damage Restoration in Freeburg
When it comes to water damage restoration and water removal in both residential and commercial spaces in Freeburg, Absolute Clean Floors stands unparalleled. Our technicians are not only IICRC certified but also skilled in water damage repair and mold remediation, all while maintaining the highest standards of professionalism and courtesy. You can count on an adept professional arriving at your property, ready to conduct a comprehensive assessment of the water damage before initiating the water damage cleanup process.We have a track record of helping people navigate the upheaval caused by flood damage. No amount of water damage should be overlooked, whether it's from storm damage, mold issues, or a requirement for emergency water removal services. Our extensive experience in water mitigation makes us your go-to option.
We've successfully carried out countless water removal and dehumidification projects.
Our expertise in flood damage ensures that you get prompt and effective water removal service when you most need it.
We Offer Round-The-Clock Flood and Water Damage Repairs
When unaddressed, flooding and other forms of water damage can rapidly deteriorate a building, leading to mold growth and structural issues. Various factors, such as water damage from leaking pipes, overflowing sinks or toilets, or precipitation entering through open windows and vents, can compound the problem. Absolute Clean & Restoration provides comprehensive water damage restoration services in Freeburg, available 24/7, ensuring timely water damage cleanup and water damage repair.
Addressing the Issue of Broken, Frozen, and Burst Pipes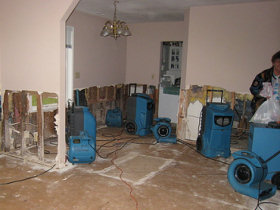 Dealing with broken or frozen pipes can be a massive inconvenience, leading to extensive water damage that can seriously impact your property. Ignoring these problems can be financially devastating. With Absolute Clean Floors, you don't have to worry; our water removal service in Freeburg, IL, is designed to address these issues efficiently, minimizing structural damage to your property.
The Prevalence of Basement Water Damage in Freeburg
Basement flooding is an urgent water damage cleanup situation that often goes unnoticed for an extended period. Almost every basement is at risk of experiencing water damage at some point, due to the accumulation of water and lack of proper waterproofing. Timely intervention by professionals experienced in basement water damage restoration is crucial to prevent further deterioration.
Your Go-To Experts for Sewage Cleanup and Removal in Freeburg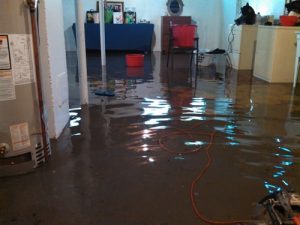 Sewage damage is among the most serious types of water damage, often involving hazardous materials that can pose significant health risks. Ignoring sewage problems can result in considerable structural damage and high repair costs. Absolute Clean & Restoration has a long history of successfully handling various sewage cleanup and removal projects, offering top-notch service in both residential and commercial settings.
We Are Fully Equipped for Your Flood Cleanup Needs
At Absolute Clean Floors, we empower our employees with the latest tools and equipment for water damage restoration and water removal, ensuring you and your insurance provider receive exemplary service. Our water damage restoration services include:
Skilled, experienced technicians
Transparent communication at every step
Coordination with your insurance company
Immediate 24/7 service, all year round
Efficient water extraction and dehumidification
Thorough photo documentation
Sanitization and deodorization services
Provision of temporary power and climate control
Thank You for Making Us Your Preferred Water Damage Restoration Service in Freeburg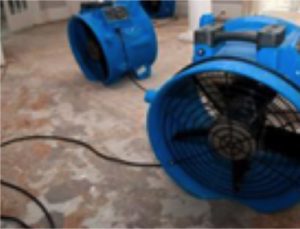 Managing the complexities of water damage repair and mold remediation can be overwhelming. That's why we're available 24/7 to offer expert, courteous, and compassionate water removal and water damage restoration services. Whether you're in Freeburg or the surrounding areas, Absolute Clean can respond promptly to any issue you face. Feel free to contact us at +1-618-402-8225 or for non-emergency inquiries, email us at scott@absolutecleanfloors.com for genuine peace of mind.
We provide services throughout Freeburg IL, including 62243.