Water Damage Shiloh IL, Water Damage Restoration and Repair, Sewage Removal, and Flood Cleanup
"Woke up the morning of our vacation to water in the basement from a failed sump pump. Scott & his team were at the house within the hour & did an amazing job! They were willing to work with a family member while we were out of town & settled up when we got home. The team was professional & courteous. While we hope we never need them again, we know who we'll call if things go wrong again." – Jennifer L.
Your Top Choice for Water Damage Restoration in Shiloh: Absolute Clean Floors
Absolute Clean Floors is Shiloh's foremost authority on both residential and commercial property water damage restoration. Our IICRC Certified crew excels in addressing not only the tangible damage to your property and belongings from unwanted mold and water but also manages these challenges with utmost professionalism and care. Our experts, skilled in water damage cleanup and water removal service, are ready to get to work after thoroughly assessing the damage at hand.We specialize in aiding victims to recover from the large-scale destruction caused by flood damage. Please bear in mind that even seemingly minor instances of water damage should never be taken lightly. Whether your project entails storm damage, mold treatment, or urgent water removal, Absolute Clean & Restoration is well-equipped to provide all the water damage repair and water mitigation services you require.
We've successfully concluded tens of thousands of water removal and dehumidification projects.
We possess both the knowledge and practical skills to assist you when facing flood damage. We're the flood cleanup company you can rely on for timely and efficient service.
24/7 Water Damage Repair & Restoration
If flooding or other water damage goes untreated, your property's structural integrity can swiftly decline, becoming a fertile breeding ground for mold. Water damage can occur from a range of sources, such as broken, leaky or frozen pipes, overflows from sinks, toilets, or bathtubs, malfunctioning appliances, and more. Excessive moisture can enter your property through open windows, doors, and attic vents, causing water damage that can be devastating and confusing.
Absolute Clean & Restoration's water damage restoration team will steer you through the complete water damage cleanup and water removal service process in Shiloh. We offer 24/7 availability.
Swift Solutions for Broken, Frozen, and Burst Pipes that Require Immediate Water Removal Services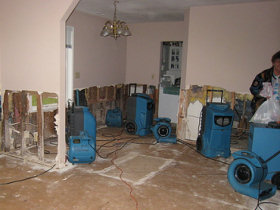 A ruptured pipe floods your distribution center. Your residential sump pump malfunctions. Immediate water removal services in Shiloh, IL are a must. Such freshwater losses often stem from flawed supply lines or frozen pipes. A frozen, ruptured or leaky pipe can spiral into major headaches for your property. Neglecting water damage repair can be financially crippling, as it can jeopardize your structure and valuable belongings. If you find yourself in such a predicament, our team has the skills and equipment for efficient water removal and damage restoration, minimizing the destruction to your property.
Absolute Clean Floors has the capability to dry both your property's structure and contents, potentially saving you a significant amount in reconstruction expenses.
Basement Water Damage Cleanup in Shiloh – Prompt and Professional Water Damage Restoration
Basement flooding is a significant issue that often goes unnoticed for extended periods. Data from insurance companies indicates that 98% of basements will suffer from water damage at some point. Considering that most pipes are located in the basement, and water naturally flows downward, this is not surprising. If your foundation hasn't been adequately waterproofed, over time, the continuous pressure may result in cracks and water infiltration.
The situation demands immediate attention from professionals skilled in basement water damage cleanup and structural drying to prevent further water damage.
Specialized Shiloh Sewage Cleanup & Removal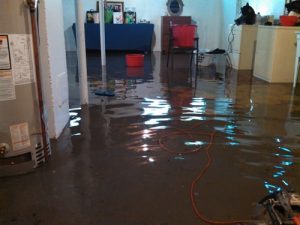 Sewage damage ranks as one of the most hazardous types of water losses, often originating from sanitary sewer sources. This water contains human waste, chemicals, and other contaminants that can pose severe health risks. Most affected structural materials and contents are typically non-salvageable. However, the property's framing can often be cleaned, sanitized, and dried in a reasonable time frame.
Ignoring sewage issues can lead to immense structural damage that can be prohibitively expensive to fix. At Absolute Clean & Restoration, our experience in sewage cleanup and removal is second to none. We offer top-tier sewage cleanup and repair services in Shiloh.
We're Fully Equipped for Your Flood Cleanup Needs
Our team at Absolute Clean Floors is consistently updated with the latest in water extraction, dehumidification, and other water damage restoration tools to serve you better. We are committed to ensuring that you and your insurance provider are completely satisfied as we restore your property to its pre-loss state.
What you can expect from Absolute Clean Floors water damage restoration services:
Highly trained technicians
Transparent communication
Coordination with your insurance company
Uninterrupted service 24/7, 365 days a year
Effective water removal
Moisture monitoring and dehumidification
Photographic documentation
Odor control and sanitization
Provision of temporary power and climate control
We Appreciate Your Trust in Our Water Damage Services in Shiloh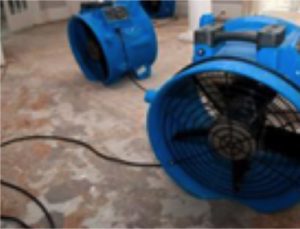 Navigating the complexities of water damage repair and mold remediation can be daunting. We are available 24/7 to schedule our certified water removal technicians who will provide you with the courteous, compassionate service you merit. We'll be beside you at each step of the water damage cleanup and treatment process, aiming to restore your residential or commercial space to near-original condition. We are proud to offer both residential and commercial clients in Shiloh the quickest and most reliable emergency water damage cleanup service.
Opt for Absolute Clean Floors for all your water removal and water damage restoration needs in Shiloh, IL, and surrounding locales. Contact us at +1-618-402-8225 or for non-emergency consultations, email us at .
We provide services throughout Shiloh IL, including 62221, 62225, 62226, 62269.