Water Damage Highland IL, Water Damage Restoration and Repair, Flood Cleanup and Sewage Removal
"Woke up the morning of our vacation to water in the basement from a failed sump pump. Scott & his team were at the house within the hour & did an amazing job! They were willing to work with a family member while we were out of town & settled up when we got home. The team was professional & courteous. While we hope we never need them again, we know who we'll call if things go wrong again." – Jennifer L.
Highland's Premier Water Damage Repair Solution
Absolute Clean & Restoration has cemented its position as the go-to water damage restoration company for both homeowners and businesses in Highland. We boast a team of IICRC Certified technicians who excel in not only rectifying water and mold-inflicted physical damage but also delivering remarkable customer service. When you reach out to us for water damage repair, expect a professional to arrive at your location promptly, armed with the necessary equipment to assess and tackle the damage.Our company specializes in rejuvenating properties devastated by extensive water damage, such as flooding. Be aware that even minor water damage shouldn't be overlooked, as it can escalate into more serious issues. Our team stands ready to undertake any water mitigation tasks, encompassing mold repair, storm damage, or emergency water removal service.
With a wealth of experience drawn from tens of thousands of successful water removal and dehumidification projects, we possess the skills needed to handle any water damage restoration task. At Absolute Clean & Restoration, we appreciate the urgency of your situation and strive to conduct our services promptly and competently.
If you're facing water damage in Highland, don't hesitate to contact the professionals at Absolute Clean & Restoration for dependable and expert water damage repair services.
Around-the-Clock Emergency Flood & Water Damage Repair by Absolute Clean & Restoration
Water damage can lead to extensive harm to your property, resulting in mold growth and other issues. Whether due to a leaky pipe, toilet overflow, or harsh weather conditions, untreated water damage can inflict irreparable harm to your home or business. As such, immediate action and professional help are of the essence.
At Absolute Clean & Restoration, we provide 24/7 emergency flood and water damage repair services in Highland. Our knowledgeable water damage restoration specialists will guide you through the entire restoration process, ensuring your property is returned to its pre-damage condition.
We understand that water damage can occur at any time, hence, our round-the-clock availability for immediate assistance. Our team of experts, equipped with the most advanced tools and technology, will promptly arrive at your location to assess the damage and initiate the water damage restoration process.
Regardless of the source of excess water — whether from firefighting or flooding — or issues related to high humidity levels, our team possesses the expertise to restore your property swiftly and effectively.
Proficient Repairs for Broken, Frozen, and Burst Pipes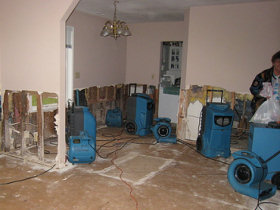 A burst or frozen pipe can result in substantial disruption and damage to your property. Neglecting these repairs can lead to expensive water damage that can weaken your building's structure and damage your possessions. If you're grappling with water or flood damage caused by a broken, frozen, or leaky pipe, we're here to assist.
At Absolute Clean Floors, we provide expert repair services for broken, frozen, and burst pipes in Highland, IL. Our team of professionals can resolve drying scenarios with minimal harm to your property, saving you a significant amount in reconstruction costs.
We appreciate the urgency of the situation and offer swift repair services to minimize the damage caused by faulty flexible supply lines or frozen pipes. Our team can efficiently dry your building's structure and contents, including drywall, insulation, hardwood floors, wood and metal studs, concrete blocks, plaster walls, ceiling tiles, and much more.
Specialist Basement Water Damage Cleanup Services in Highland
Basement flooding is a serious issue that can remain unnoticed for a prolonged period. According to research by insurance companies, 98% of basements will endure water damage at some point. This statistic isn't surprising, considering most of a property's plumbing is located in the basement, and water naturally flows towards this area. If the foundation hasn't been properly waterproofed, the persistent pressure may lead to cracks in the foundation and subsequent water intrusion.
Therefore, it's crucial to seek professional help promptly for comprehensive basement water damage cleanup and structural drying before more damage occurs. We have a team of professionals who are adept at handling basement water damage.
We deliver expert basement water damage cleanup services in Highland, employing cutting-edge technology and equipment to ensure your property is restored to its pre-loss state. Our team will promptly arrive, evaluate the damage, and formulate a plan to mitigate the water-inflicted damage.
Sewage Cleanup & Removal: Confronting the Perils of Sewage Damage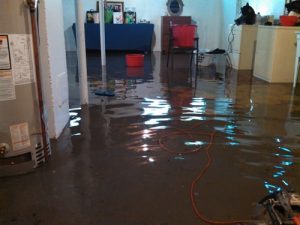 Sewage damage is a grave concern that can cause substantial structural damage and present significant health hazards. This type of water damage typically comes from a sanitary sewer source and can originate from several places such as basement sewer drains, showers, sinks, toilets, and washer drain pipes, as well as leaking wax rings or even toilet bowls. Raw human waste, chemicals, and other contaminants in sewage water can pose severe threats to human health, necessitating prompt sewage problem resolution.
Delaying sewage cleanup can lead to major structural damage, incurring hefty repair costs. Therefore, it's vital to contact us without delay if you observe any signs of sewage damage. Our team will evaluate the extent of the damage and implement the necessary steps to restore your property to its pre-loss state. While most structural materials and contents may be deemed unsalvageable, our experts can clean, disinfect, and dry the framing of your property within a reasonable timeframe.
Don't allow sewage damage to threaten your health and property safety. Reach out to us for Highland sewage cleanup and removal services, and we'll ensure your property is safe, clean, and restored.
All-Inclusive Water Damage Restoration Services in Highland IL
Floods and other water-related disasters can strike unannounced, causing considerable damage to your property. At Absolute Clean Floors, we understand the stress and frustration associated with such emergencies, which is why we are equipped to manage all facets of water damage restoration in Highland, IL. Our dedication to exceptional service delivery has led us to invest in the latest water damage restoration tools, including extraction, dehumidification, and moisture monitoring tools.
Our team of highly trained technicians is ready to address all kinds of water damage, irrespective of the severity. We keep you informed throughout the restoration process, explaining the steps involved in restoring your property to its original state. We also collaborate with your insurance provider to ensure prompt claim processing and the best possible service.
We offer 24-hour emergency services, so you can count on us to respond quickly to your call. Our services include water extraction, dehumidification, and moisture monitoring to prevent further damage and mold growth. We also provide photo documentation, deodorization, and sanitization services to ensure that your property is clean and safe.
Thank You for Choosing Absolute Clean Floors as Your Highland Water Damage Company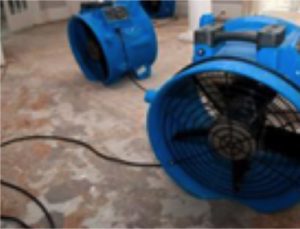 We are committed to walking with you through every step of the clean-up and treatment process to restore your home or workplace to its like-new condition. Whether you are a residential or commercial water damage victim, we provide the best and fastest emergency water damage cleanup services in Highland, IL, and surrounding communities.
If you need water removal and restoration services, choose Absolute Clean Floors. You can reach us by calling (618) 402-8225 to schedule an appointment. For non-emergency inquiries, you can email us at scott@absolutecleanfloors.com. With our services, you can discover true peace of mind knowing that your property is in good hands.
We provide services throughout Highland IL, including 62249.