Water Damage Maryville IL, Water Damage Restoration and Repair, Flood Cleanup and Sewage Removal
"Woke up the morning of our vacation to water in the basement from a failed sump pump. Scott & his team were at the house within the hour & did an amazing job! They were willing to work with a family member while we were out of town & settled up when we got home. The team was professional & courteous. While we hope we never need them again, we know who we'll call if things go wrong again." – Jennifer L.
Preferred Water Damage Restoration Company in Maryville
Absolute Clean & Restoration stands as Maryville's go-to resource for comprehensive residential and commercial water damage restoration services. Our team of IICRC Certified technicians are not just adept in addressing the physical toll of water and mold damage, but they also prioritize superior customer service. A call to us ensures the prompt arrival of a highly trained professional ready to evaluate and repair the damage.Whether dealing with extensive flood damage or seemingly minor water issues, our team can help. Ignoring even minor water damage can escalate into larger problems, so we ensure every water damage repair project, big or small, is treated with utmost importance. This includes handling mold repairs, storm damage, or providing prompt emergency water removal service.
With an extensive portfolio of successful water removal and dehumidification projects, we have honed the experience and skills needed to tackle any water damage restoration task. Understanding the urgency of water damage, Absolute Clean & Restoration is committed to completing jobs promptly, efficiently, and accurately.
Facing water damage in Maryville? Reach out to Absolute Clean & Restoration for dependable and professional water damage restoration services.
Around-The-Clock Emergency Water Damage Repair Services by Absolute Clean & Restoration
Water damage, if left untreated, can lead to irreparable harm to your property, promoting mold growth among other issues. It can occur due to a myriad of reasons – leaky pipes, toilet overflows, or extreme weather conditions. Acting swiftly and seeking professional help is of the essence in these scenarios.
At Absolute Clean & Restoration, we provide 24/7 emergency flood and water damage repair services in Maryville. Our experienced water damage restoration team will guide you through the comprehensive cleanup and restoration process, working towards restoring your property to its original condition.
Aware that water damage can strike at any hour, we stand ready to provide immediate assistance. Our team of professionals is equipped with the latest tools and technology to assess the damage and initiate the restoration process. Be it excess water from firefighting efforts, floods, or any other water-related issue, our skills and expertise can help restore your property promptly and efficiently.
Specialized Repair Services for Broken, Frozen, and Burst Pipes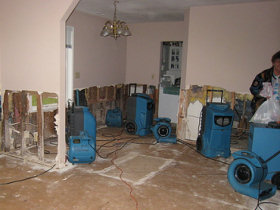 Confronting a burst or frozen pipe can cause significant water damage, inconvenience, and harm to your property. Neglecting these repairs can result in costly water damage compromising your structure and damaging your belongings. If you're contending with water or flood damage due to a faulty pipe, we're here to help.
At Absolute Clean Floors, we deliver specialized repair services for broken, frozen, and burst pipes in Maryville, IL. Our team of experts can manage the drying scenarios with minimal destruction, saving you substantial reconstruction costs.
We appreciate the urgency of such situations and provide rapid repair services to mitigate the damage caused by faulty pipes. Our team can dry the various structural components and contents of your building, including drywall, insulation, hardwood floors, and more.
Experienced Basement Water Damage Cleanup Services in Maryville
Basement flooding can easily go unnoticed for a while, leading to significant damage. Insurance data shows that nearly 98% of basements experience water damage at some point. Given the location of pipes and natural water flow, the basement is particularly vulnerable to water seepage and damage.
Engaging professional help promptly for basement water damage cleanup and structural drying is crucial. Our team of professionals at Absolute Clean Floors knows how to effectively manage basement water damage.
We offer expert basement water damage cleanup services in Maryville, utilizing the latest equipment to restore your property to its original state. Our team arrives promptly, assesses the damage, and develops a strategy to mitigate the water damage.
Efficient Sewage Cleanup & Removal: Tackling the Hazards of Sewage Damage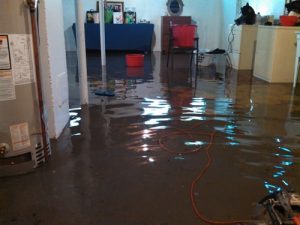 Sewage damage can lead to significant structural damage and health risks. This type of water damage typically comes from sanitary sewer sources and can result from various problems such as leaking pipes, drains, or toilet bowls. The contaminants present in sewage water, including human waste and chemicals, can be detrimental to health, necessitating prompt attention to sewage problems.
Delay in sewage cleanup can lead to major structural damage, which can be expensive to repair. Therefore, it is crucial to contact us immediately if you notice any signs of sewage damage. Our team will assess the extent of the damage and take the necessary steps to restore your property to its pre-loss state.
Don't let sewage damage risk your health and property's safety. Reach out to us for Maryville sewage cleanup and removal services, and we'll ensure that your property is safe, clean, and restored.
All-Inclusive Water Damage Restoration Services in Maryville, IL
Water damage emergencies can arise suddenly, causing extensive damage to your property. At Absolute Clean Floors, we understand the stress associated with such situations and are equipped to handle all aspects of water damage restoration in Maryville, IL. We have invested in the latest water damage restoration equipment, including extraction, dehumidification, and moisture monitoring tools, to provide top-tier service.
Our team of seasoned technicians can manage all forms of water damage, regardless of severity. We maintain open communication with you, explaining the restoration processes in detail. Additionally, we coordinate with your insurance carrier to expedite your claim processing.
We offer 24-hour emergency services to respond promptly to your calls. Our services encompass water extraction, dehumidification, moisture monitoring, photo documentation, deodorization, and sanitization, to prevent further damage and ensure a clean, safe environment.
Schedule an Appointment Today for Your Water Damage Cleanup & Repair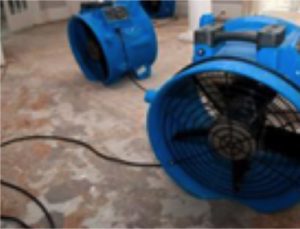 If you need water damage repair and restoration services in Maryville, IL, look no further than Absolute Clean Floors. Our team of experienced professionals is here to assist you throughout the entire process, from water removal to restoration. Contact us today to schedule an appointment.
We provide services throughout Maryville IL, including 62062.