Water Damage Smithton IL, Water Damage Restoration and Repair, Flood Cleanup and Sewage Removal
"Woke up the morning of our vacation to water in the basement from a failed sump pump. Scott & his team were at the house within the hour & did an amazing job! They were willing to work with a family member while we were out of town & settled up when we got home. The team was professional & courteous. While we hope we never need them again, we know who we'll call if things go wrong again." – Jennifer L.
Smithton's Top Choice for Water Damage Restoration
Absolute Clean Floors stands as the leading provider of property restoration services for both residential and commercial properties in Smithton. Our IICRC Certified technicians excel at managing both the physical damage to your building and personal belongings due to unwanted mold and water, while conducting themselves professionally and courteously. You can rely on a highly trained professional who will arrive fully prepared to start work after a thorough damage assessment.We have assisted countless individuals in recovering from significant losses caused by flood damage. It's important to note that even minor water damage shouldn't be overlooked. Whether your issue is storm damage, mold repair, or emergency water extraction, Absolute Clean & Restoration is well-equipped to handle all your water mitigation needs.
We've successfully executed tens of thousands of water extraction and dehumidification projects.
We possess the knowledge and skills needed to support you when flood damage occurs because we understand the importance of having a reliable flood cleanup company to complete the task promptly and accurately.
Round-the-Clock Flood and Water Damage Restoration Services
Water damage, whether from natural disasters or plumbing malfunctions, can rapidly degrade a structure and foster the growth of mold. Damage can result from a variety of sources including leaks from pipes, sinks or toilets, air conditioner leaks, or other forms of water intrusion. Even heavy rainfall can harm your property, especially if your windows, doors, and attic vents are unsealed.
Absolute Clean & Restoration is fully aware of the severity of water damage, and our restoration specialists will guide you through every step. We offer 24/7 services to ensure you receive immediate help in case of a water emergency.
Our team is equipped with the knowledge, skills, and equipment to manage all forms of water damage, be it from fire suppression efforts, high humidity, or flooding. We will lead you through the entire water damage cleanup and restoration process in Smithton, guaranteeing your home is restored to its original state as quickly as possible.
Basement Water Damage Solutions in Smithton
Basement flooding can become a severe issue and often goes unnoticed for long periods. Research from insurance companies indicates that 98% of basements will experience water damage at some point. This is unsurprising as most pipes are located in the basement and water naturally accumulates there. If your property's foundation hasn't been adequately waterproofed, constant pressure over time could lead to cracks in the foundation and water infiltration.
It's critical to engage a professional who understands how to perform comprehensive basement water damage cleanup and structural drying. They should attend to any basement water damage promptly to prevent further deterioration.
Fast and Effective Repair Services for Broken, Frozen, and Burst Pipes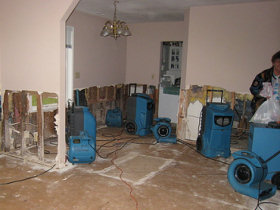 A pipe burst or a malfunctioning sump pump can cause substantial water damage to your home or business, leading to inconvenience and stress. Neglecting these issues can be costly, as water damage can destabilize structures and ruin valuables. Frozen, broken, or leaky pipes are common causes of water damage, especially during colder seasons.
We offer rapid and efficient repair services for broken, frozen, and burst pipes in Smithton, IL. Our seasoned professionals are armed with the knowledge and tools to resolve these drying scenarios with minimal impact on your property.
We provide comprehensive water extraction services, drying your building and belongings, saving you significant reconstruction costs. Our team is often able to dry and preserve drywall, insulation, hardwood floors, wood and metal studs, concrete block, plaster walls, ceiling tiles, and more.
Expert Sewage Cleanup and Removal Services in Smithton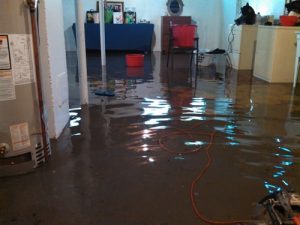 Sewage damage is among the most harmful and hazardous forms of water damage. It often originates from sanitary sewer sources and can contain raw human waste, chemicals, and other harmful substances posing significant health risks. Whether it's a sewer drain in your basement, drain pipes connected to your shower, sink, toilet, or washer, or a leaking wax ring on your toilet, sewage issues require special attention.
Absolute Clean & Restoration provides the highest-quality sewage cleanup and repair services in Smithton for both residential and commercial properties. Our professionally trained and certified experts have the knowledge, skills, and tools necessary to handle any sewage cleanup and removal task, no matter the size or complexity.
Ignoring sewage issues can lead to major structural damage, which can be exceedingly expensive to fix. Hence, it's crucial to contact us immediately if you suspect sewage damage. We'll respond promptly to limit the damage and ensure your property is safe and healthy to inhabit.
Equipped to Manage Your Flood Cleanup Needs
Our water damage restoration personnel in Smithton, IL, are provided with the necessary tools to serve you by regularly investing in the most recent extraction, dehumidification, and other water damage restoration equipment. Absolute Clean Floors is committed to providing you and your insurance provider with the best possible service as your property is restored to its pre-loss state. Here's what you can expect from Absolute Clean Floors water damage restoration services:
Skilled, highly-trained technicians
Clear communication about our methods and reasoning
Collaboration with your insurance provider
Rapid service 24/7, all year round
Water extraction
Dehumidification and moisture monitoring
Photo documentation
Deodorizing and sanitizing
Temporary power and climate control
Thank You for Selecting Us as Your Water Damage Restoration Service in Smithton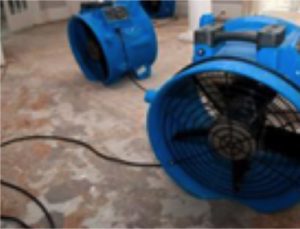 Managing the details of water damage repair and mold remediation can feel overwhelming. Contact us 24/7 to schedule one of our certified water removal technicians today for the professional, courteous, and empathetic service you deserve. We will accompany you through every step of cleanup and treatment to restore your home or workplace to a like-new condition. We provide residential and commercial victims of water damage with the most effective and fastest emergency water damage cleanup.
Choose Absolute Clean Floors for water removal and water damage restoration services in Smithton, IL, and surrounding communities. Call us at +1-618-402-8225 or for non-emergency inquiries email us at scott@absolutecleanfloors.com, and discover true "Peace of Mind."
We serve Smithton IL and the surrounding area, including 62285.